Sybaris Archaeological Park tells the history of one of the richest and most important Greek cities in Magna Graecia.
The Park is located in an area along the Ionian coast between the northern part of Cosenza province and the mouth of the river Crati. This extensive swath is called 'Sibaritide', from the ancient polis of Sybaris.
From the 8th century B.C., Sybaris was the most populous colony in Magna Graecia. Due to policies which would grant citizenship to all foreigners who applied for it, in its heyday the city had up to several hundreds of thousands of inhabitants.
Time-Travelling in Sybaris Archaeological Park
Visiting the park is like time-travelling: remains and monuments here span over more than a thousand years of history. The remains of three different settlements are kept in its various layers: Archaic Sybaris, founded by the Achaeans in 720 B.C., Thurii, refounded by the Athenians, which thrived during the Hellenistic period; and, finally, the more recent Copia, a Roman settlement that survived until the 3rd century A.D.
Excavations so far have unearthed Roman time Copia. Its substantial remains are found in the more superficial layers.
In the area known as 'Parco del cavallo' (Horse Park) – which has undergone excavation campaigns since 1932 – a large 350 metres long and 13 metres wide road has been exposed.
On the north-east side of the Park, the remains of a Roman theatre are visible, dating back to the 1st century AD. Behind the theatre, a large urban villa decorated with polychrome mosaic floors can be visited.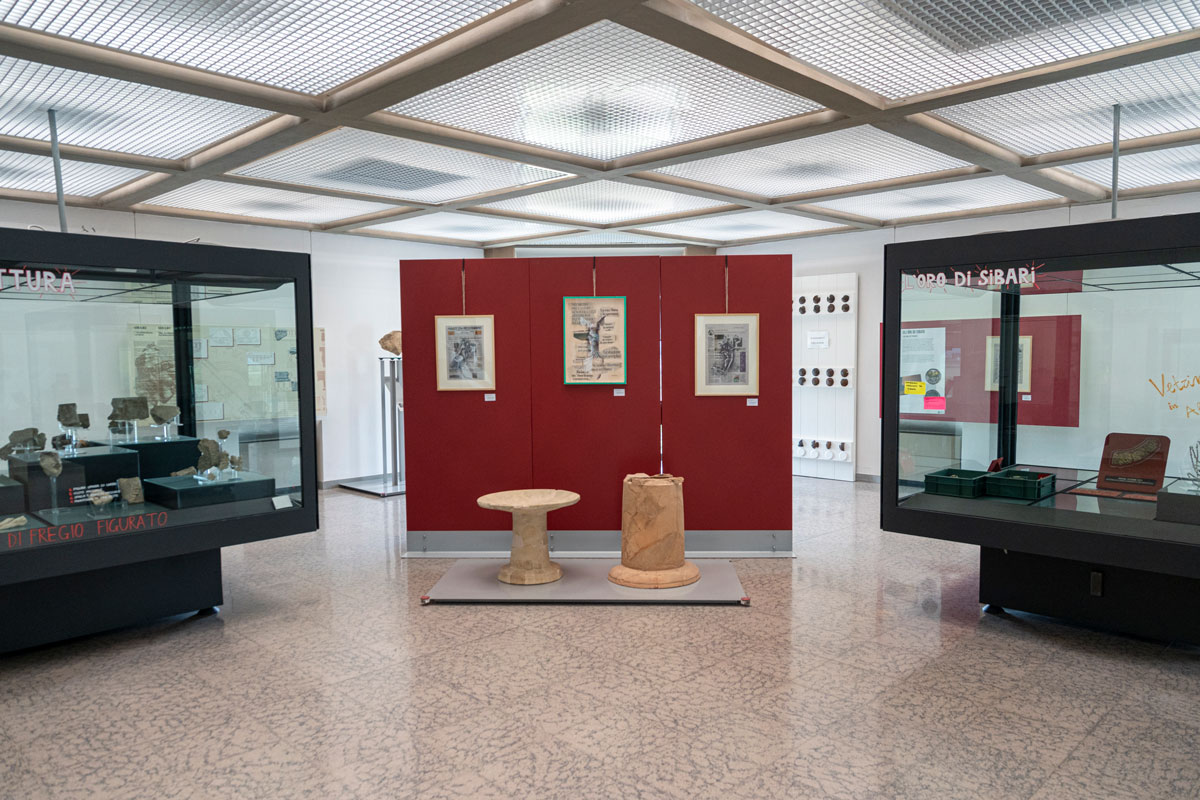 The Parco dei Tori
An entire craftsmen's district from archaic Sybaris called Parco dei Tori was also identified. The discovery of wells and kilns points to the manufacturing activities of this suburbian area of the ancient Achaean colony. Many pottery artefacts dating between the 7th and 6th centuries B.C. are kept in the museum.
Sybaris and the Museum of Sibaritide
The Museum of Sibaritide is located near the extensive archaeological area. Housed in a modern building, designed by architect Wallach in the 1980s, the Museum was opened in the 1990s.
The finds from decades-long excavation campaigns conducted in the ancient city and in the most significant sites of the Sibaritide area are on display. Some unique items illustrate the long history, customs, and traditions of this area.
Among them, the bronze statuette called Toro Cozzante and the museum's most important find deserves special mention. Dating back to the 5th century BC, it was found in a building of the ancient Roman colony Copia. According to scholars, this statue is one of the most important bronze art discoveries after the Riace Bronzes.