Between the valleys of the streams S. Elia and Scarmaci-S. Martino, 8 km from the sea, lies the site of Castiglione di Paludi. Thanks to archaeological excavations, the site of Castiglione di Paludi, in the municipality of Paludi, not far from Rossano, looks like the most organised of all Bruttian settlements. On a hill, ten kilometres from the coastline, it enjoys a strategic position over two plateaus, divided by a valley.
History of Castiglione di Paludi
Castiglione was probably fortified and organised after the Bruttian conquest, after the mid-4th century B.C.. However, excavations have shown an earlier settlement from the Archaic and Classical periods, as well as an important settlement that occupied the same area in the Protohistoric period, between the mid-9th and mid-8thcenturies B.C. The ancient site from the Bruttian period, whose name is not yet known, appears to be one of the most significant in the region. It features an orthogonal city layout, with public buildings and a theatre, as well as monumental city walls, built with parallelepiped local sandstone blocks carefully squared and juxtaposed.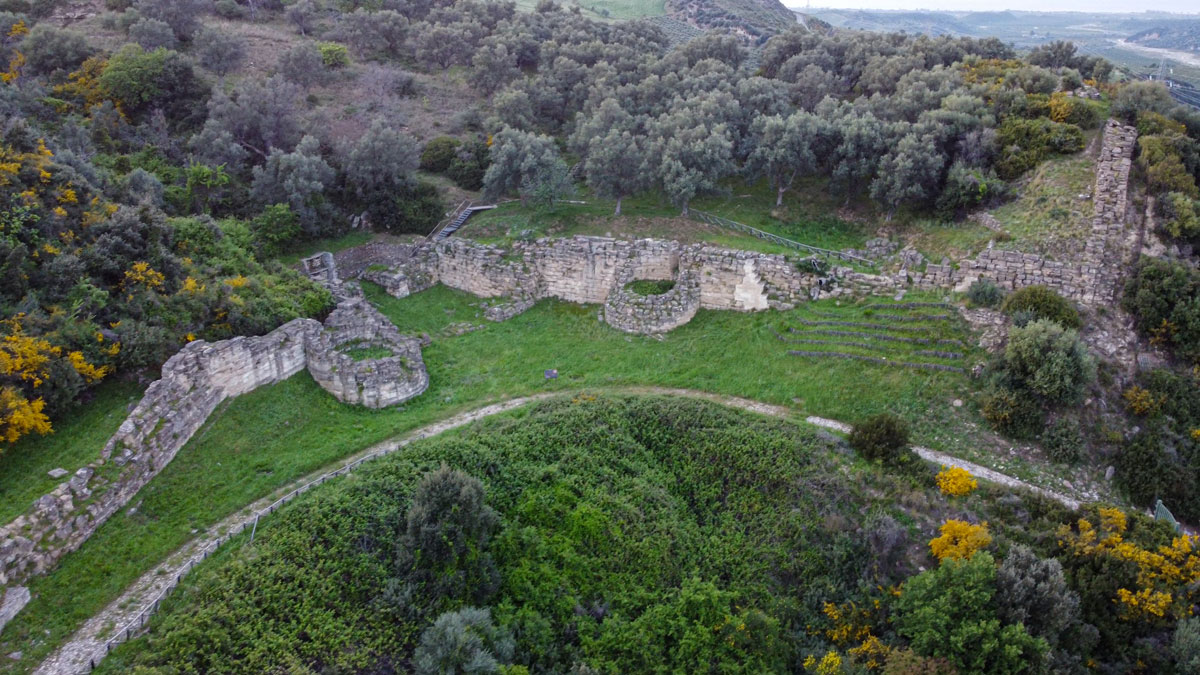 Finds from the North-eastern Side
At the entrance to the archaeological site, on the north-eastern side of the wall there are two circular towers. Another third circular tower, on the top of the hill, was used to watch the access from the sea and the stream Coserie. Between the two towers, to the east, there is a bayley gate. A second gate, the so-called South-east Gate, is a pincer gate. This remarkable fortification probably dates back to the 3rd century BC. A Multifunctional Centre, a visitor information centre for the Castiglione di Paludi Park, designed to host different types of events, are located between the north-eastern gate and the northern settlement.
The Northern Plateau
A structure identified as a 'theatre' and some monumental buildings can be seen on the south-west side of the northern plateau. Conversely, to the west, along the hillside, fashioned into steps, one can visit a building with a cavea, which however does not seem to be a theater, but rather a place for political assemblies. Near the theatre there is the northern settlement, consisting of at least five still visible buildings.
In addition to the buildings, three kilns can be recognised used for firing tableware, black-glazed and fire-glazed pottery. They stopped operating when the settlement was abandoned around the end of the 3rd century B.C., possibly in connection with the war brought by Agathocles of Syracuse against the Bruttians, who were trying to defend the Greek cities of present-day Calabria. Several wells and cisterns were also found in different areas of the settlement, ensuring its water supply.
As to sacred areas, a small shrine was found outside the walls, near the main gate, while another small deposit of clay statuettes was found inside the northern building.