Despite fifty years of investigations, the Riace Bronzes are still shrouded in an aura of mystery: what was their original colour? What do we know about some restoration works conducted in 1st century AD Rome? How did these two bronze statues end up in Riace?
Although investigations carried out by Formigli on the colours of ancient statues are still in their infancy, they can help us answer some of these questions.
Riace Bronzes Polychromy
The results of these tests show that the golden bronze hue is due to a much higher tin percentage than is normally used. However, despite the beautiful golden colour, this alloy has a drawback: the bronze becomes more delicate.
The Bronzes were certainly polychromic, as demonstrated by their lips and nipples, which are red due to the copper used, as well as by the eyes made of calcite and glass paste, and by the small pink stone reproducing the lacrimal caruncle. As for Bronze A, its white teeth are made of silver. Why was an alloy chosen that would make bronze look like gold? A golden colour was needed because the two heroes were imagined with blond hair and beards.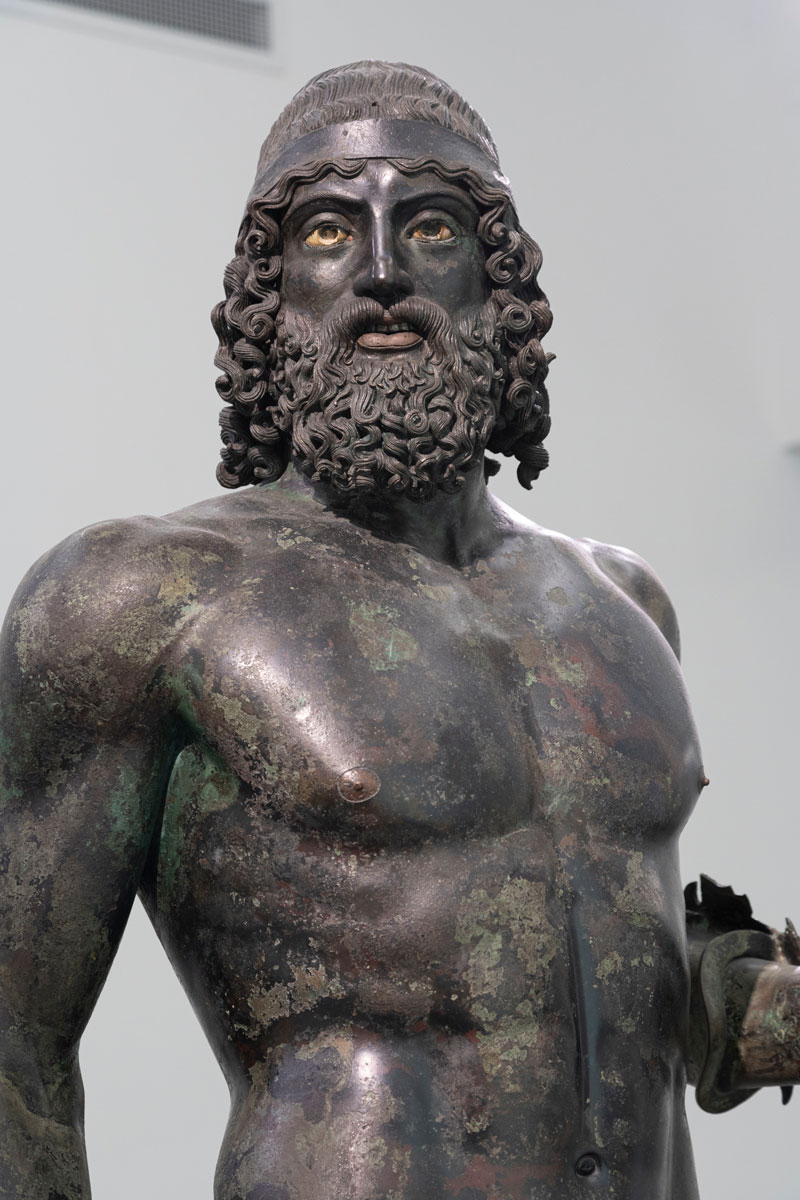 The lower tin ratio used to fashion the couple of dozens of hair curls and beard of statue A is another curiosity. These curls – the more reddish the less tin was used in the alloy – were cast separately and soldered to the head.
As to the skin colour, so called 'liver of sulphur', namely a mixture of potassium sulphide and potassium polysulphide, was employed for a nicely tanned surface colour.
Restoration Works
Archaeometry – the application of scientific methods and technology to archaeological study – has helped scholars reconstruct the history of the Bronzes from their creation in Argos, in the Peloponnese, to their transport to Rome, their restoration, and long display to the Roman public. In the imperial restoration the right arm and left forearm of Bronze B were replaced by making a cast of the originals and then welding the new limbs to the torso. To conceal this operation, the Bronzes were painted glossy black, traces of which can still be detected today.
The Bronzes Could be part of the "Fratricides" Sculptural Group
Some hypotheses can be made based on the study of a fragment of an amphora (Athenian 273), found wedged between the right wrist and the right hip of Bronze A, and datable to the first half of the 4th century AD. This assumption also refers to the 2nd book of the Anthologia Palatina, describingthe statues of the public gymnasium of Constantinople – known as Zeuxippos, –transported by Constantine and his son Constantius II from ancient Rome to New Rome. The 'Fratricides' sculptural group, along with many other statues the Emperor owned in Rome, were most probably shipped to Constantinople. However, the ship most probably sank off the coast of Riace.